We need a hive mind, not a herd mentality.
Nessa Cronin
May 26, 2020
These are strange times we are living through. At the beginning of the Covid crisis I was uplifted to listen to people singing from their balconies, but in recent days was disheartened to learn that the Italians in certain regions have stopped their arias and social unrest is starting to be felt. I learned that a colleague of mine in the UK changed his university exam to an online essay where students were asked to respond to the following quote from Bertolt Brecht, "'What times are these, when to talk about trees is almost a crime, because it implies silence about so many horrors'. Discuss."
Discuss indeed. For a generation that lived through the global financial crisis there is much about this current moment that is uncannily similar, but also much that is unprecedented and fundamentally different. What was seen in 2008 was how the financialization of the housing market affected the everyday lives of ordinary people struggling to hold on to their homes, livelihoods and their lives. In this age of uncertainty, we have become used to the idea of the gig economy, sofa-surfing as a 'thing', and precarious futures.
What we are seeing unfold before us now, however, is the politics of care, and how care is different depending on where you live and what access to resources you may have or have not at your disposal. The crisis has also made us all radically rethink what does 'home' mean in 2020, and how homes may not always be the place of shelter and protection that many assume.
While there needs to be quite rightly a focus on the immediate public healthcare crisis, and how to deal with it as it evolves and develops, what is also needed are sets of considerations as to what might our world look like after the Great Lockdown? How will it impact us as a nation? And how will it change the very fabric of our daily lives as global citizens?
After a decade of austerity in Ireland public services in particular and Irish society in general cannot admit another round of disaster capitalism to enfold the lives of the citizens of this state. Yes, we need to flatten the curve, but we also need to take care not to flatten our collective futures. If we stay on the same economic path we were on pre-Covid, our post-Covid world will be on a fast-track to societal and ecological breakdown in the not too distant future.
This pandemic was foreseeable and will not be a one-off event in our environmentally fragile future. After the 2014 Ebola outbreak Bill Gates gave a Ted-X talk outlining how the world was woefully ill-equipped for a globally infectious pandemic. In 2019 a report from the Global Preparedness Monitoring Panel, supplied at the request of the United Nations, ominously observed that the world was severely underprepared for such an eventuality. But no one was interested in doing anything about it. The lessons we have learned from SARS, MERS, Ebola and the more recent refugee crisis, are not just lessons in epidemiology and the history of humanitarianism, but a stark reminder of the great turning away we readily perform in the Global North – that in Europe and North America unless it happens on our doorsteps, it doesn't really matter.
There will be other such events that will threaten the very fabric of our communities and call into question who and what we are as a nation. But no more than the person who cut down the last tree on Easter Island, or the 2008 traders who had never experienced a housing crash so couldn't imagine it ever happening in their lifetimes, we seem to be psychologically programmed not to be able to contemplate the end of a historical moment, let alone the end of our species.
Covid-19 has functioned as a reminder that the very basics of what the Italian philosopher Giorgio Agamben has termed 'bare life' – food, shelter, healthy communities – are indeed the basic foundations of any functioning society. This crisis has also shown us how we are interdependent beings – we rely on each other for our very survival. We have come to realise that it is not just our most precious citizens of the state (our elders) that are in need of our care and support, but every single person in our state needs care at different stages throughout our lives. This is something we learned as children, but forgot perhaps as adults.
There are things that we can do and plan for an alternative future. In Ireland we don't have to look very far to get inspiration not just from those on the front line in our hospitals and care settings dotted across the country, but we can also get inspiration and strength from each other. We learned to do this in our recent Citizen's Assemblies that changed the course of Irish society for the better, where the ordinary voters became national heroes that changed Ireland and gained the admiration of the world. We learned to listen to each other's stories, to understand different personal histories, and make space for the right of each person to determine their own lives and futures. We put a structure on that to ensure that such protections and rights would be enshrined in our Constitution.
Now is the time to start thinking of new structures and new ways of being in a post-Covid-19 world. A series of Citizen Assemblies addressing the future provision of our public health, public housing, and educational systems, amongst others, needs to be put in place to allow deliberative democracy do its valuable work. Ideas such as the green new deal, universal basic income and values associated with a caring society need to be explored and examined.
This crisis has shown that global shocks, whether in public health or environmental, do not respect borders. In Ireland, an All Island Forum will also be needed to explore all-of-island solutions to these all-of-society challenges. Expertise from a range of areas will be needed to help us to reimagine and redesign a better future for all. Germany was one of the first countries to recognise this in their Covid response by including Humanities' scholars in their expert sub-groups, and Australia is collating a database of expertise across the STEM and AHSS disciplines to aid their future collective response to the crisis.
Yes, government mantras sing from the same hymn-sheets, 'we are in this together', but the issue of covid deaths in nursing and care homes serves as a stark reminder that some of us get forgotten. There is a real risk to society when blindspots are built into organisational systems through not having multidisciplinary teams of experts in place when managing a crisis. Scientists need to confer with behavioural psychologists, educators need to be involved in future educational planning, and historians need to work with economists to remind them of the politics of financial decision-making. Finally, people on the front line need to be involved in the co-creation and co-design of public policy in real-time during a crisis such as this.
At a time when the very idea of democracy and the European project will be put under extreme pressure, even at risk of breaking apart, this process of collective thinking will strengthen the very bonds of solidarity that bind us together. Therefore, what we need is a hive mind not a herd mentality. Such bonds will help provide the certainty to help build a better future – something that we all need to hope for right now.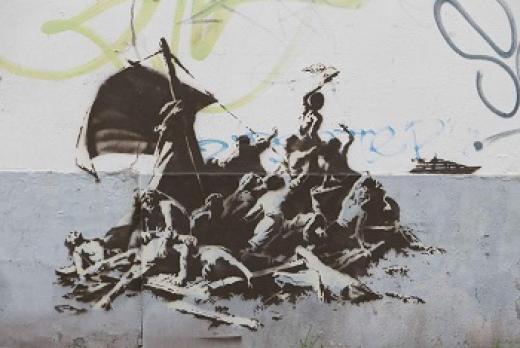 Nessa Cronin
Nessa Cronin is Lecturer in Irish Studies, Centre for Irish Studies, NUI Galway, Ireland and has published widely on various aspects of Irish writing, cultural geography and community mapping practices. She read English and Philosophy for her undergraduate degree at Trinity College, Dublin and received an MA in Continental Philosophy and Literature from Warwick University. She completed her doctoral research at NUI Galway, The Eye of History: Spatiality and Colonial Cartography in Ireland, focused on the visual and linguistic construction of the modern Irish map through a critical examination of four key moments in Irish cartographic history. Nessa is co-editor of Anáil an Bhéil Bheo: Orality and Modern Irish Culture (2009), Landscape Values: Place and Praxis (2016) and the forthcoming volume Lifeworlds: Space, Place and Irish Culture. She is currently completing her monograph on the making of Irish colonial space, Making Space: Cartography and Colonial Governmentality in Ireland (forthcoming). She has been the recipient of 3 Irish Research Council awards, and bursaries from the European Science Foundation and Culture Ireland, and has been awarded visiting fellowships in University of Stanford, Univeristé de Nantes and University of Concordia, Montreal. She also works in the area of Environmental Humanities and Creative Geographies and has co-curated events and exhibitions such as Mapping Spectral Traces IV (Black Box Theatre, Galway 2012), Interpreting Landscape/Rianú Talún, (NUI Galway 2014) and is the Director of Iarsma: Fragments from an Archive, the Tim Robinson Artist-in-the-Archive Project (Galway 2015-16). She works on community mapping projects in Clare, Galway and Mayo with artists, activists and community groups on socially-engaged projects investigating issues concerning place, language and culture in contemporary Ireland.